Limanaki Sea Food Restaurant
Creating tasty experiences since 1951
---
Back in 1951 grandpa Michalis, a seasoned fisherman, founded Limanaki (small port), the first fish restaurant in Kolympia. It was a small hut with a capacity of 10 guests, just a few meters away from the waves. With Limanaki passing to his son and then to his grandson, we became one of the most famous fish restaurants in the whole island of Rhodes.
FROM THE FISHING BOAT, STRAIGHT TO OUR GRILL
We partner with local fishermen that everyday deliver to our door their just caught fish.
---
LOCAL FISH DISHES WITH THE STUNNING VIEW OF THE AEGEAN SEA
This is what allows us to show our visitors the traditional Greek seafood pleasures with the highest standards of freshness and quality. While our guests taste the seabed's goods, their eyes gaze the crystal clear Aegean Sea, offering a relaxing, memorable experience!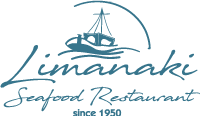 ---
We only provide fresh fish straight from the seabed! They are cooked with both traditional and gourmet recipes by our chef's guidelines, so they can perfectly square with the scenery of Kolimpia beach.
Gaze the Aegean Sea while you taste the Aegean seabed.